Immigration reform was Donald Trump's number one campaign promise. During his campaign, Trump toured the country, promising those that had lost their jobs to cheap illegal labor, that he would kick out all illegals. He was the first president to make such grand promises. Turns out those promises were shallow lies. One hundred days into his presidency, Trump has failed to deliver on any of his campaign promises. EXCEPT, he is delivering on his immigration reform.
"On Day One, I am going to begin swiftly removing criminal illegal immigrants from this country," he said.
Everywhere you turn your head, illegal immigrants are being carted out of the country. It seems as if Trump is doing a helluva job. Ask any Trump supporter to name a Trump accomplishment, and they'll say 'immigration'. But let us take a comparison. Of all the immigrants Trump has kicked out of the country so far in his first 100 days, compared with Obama?
According to statistics from Immigrations and Customs Enforcement (ICE) given to CNN, the pace of removals under Trump in his first three months lags behind even the last two years of his predecessor, when then-President Barack Obama ordered his agencies to use more discretion when it came to deporting undocumented immigrants, focusing specifically on criminals. CNN article
These statistics from ICE paint an interesting picture.
The number of criminals and non-criminals exported between Inauguration Day and April 24, during the past three years.
Exported        Convicted Criminals       Non-Criminals            Total
Trump                  30,667                            23,897                          54,564
Obama 2016        37,109                            24,953                         62,062
Obama 2015        36,367                            23,571                         59,938
Say what you want about Obama, but they don't call him the "Deporter-in-Chief" for nothing. Obama deported more people than any other president. Between 2009 and 2015 his administration has removed more than 2.5 million people through immigration orders, which doesn't include the number of people who "self-deported" or were turned away and/or returned to their home country at the border by U.S. Customs and Border Protection (CBP). ABCNews article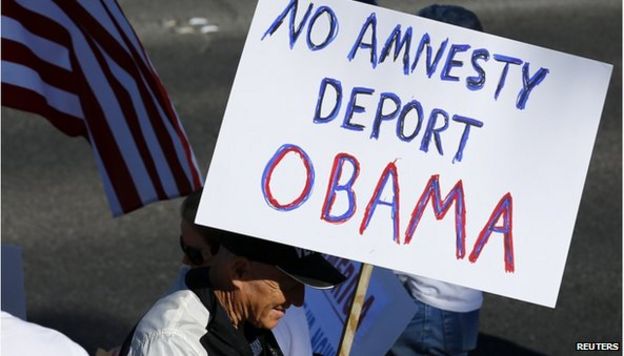 According to these government statistics, more illegals are staying in the US under Trump. This is great news for the agri-business. Apparently, Trump is great friends with the agri-business. The more illegals that they hire, the cheaper wages they have to pay.
Remember all of those Trump supporters, who were so infatuated with him? They were convinced that Trump would clear out all the illegals and get their jobs back. Turns out, he's doing the exact opposite.
Oh well. At least he got their votes.