LLCs are buying up Trump properties like hotcakes. Why?
During the campaign, Trump brushed aside all concerns about conflicts of interests. Never before have we had a president with such a far reaching empire of hotels and properties. In fact, his empire is so enormous, that it is impossible to determine every private company that he may have some financial linkage to.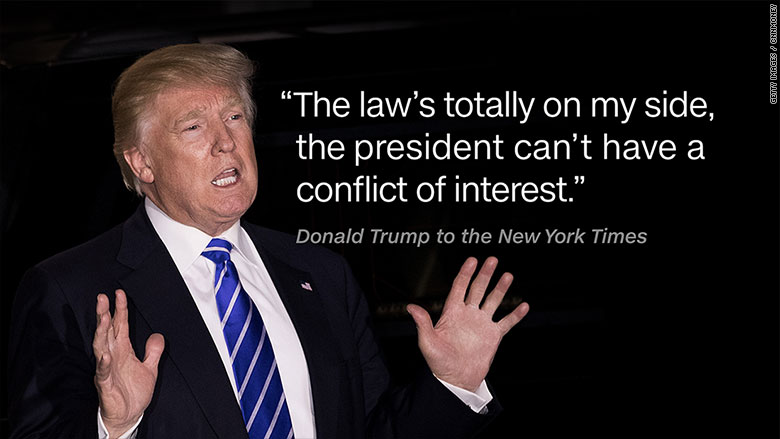 In regards to his properties, during the campaign, his opponents remarked how easy it would be for someone to pass money to the president. Trump simmered down the unrest though, by handing his business interest to his children. Although this really settles nothing. The point of a blind trust is to avoid the owner of a company from communicating with those in charge of his or her company. What does it matter, who has full discretion over the assets, when they all eat breakfast together every day?
According to a USAToday article, for the past year, since Donald Trump has been a leading republican presidential nominee, 70% of all the buyers of Trump properties were limited liability companies. LLCs are the way to buy things IF you do not want your name being revealed. For a little comparison, the two years prior, just 4% of those purchasing Trump properties were LLCs.
You don't need to be a rocket scientist to detect the blatant conflicts of interests here. Finally, I could legally pay the president of the United States millions of dollars, in exchange for his influence.
Even taking out a penthouse hotel room for a few million could net anyone some favors from the most important man in the world. Since Donald Trump has become president, business is booming. As president, he sold 28 properties totaling $33 million.
Although a real estate deal regarding a foreign diplomat looking to secure some investments with the president of the United States could gravely affect you and your kid's lives, by law, President Trump doesn't have to let anyone but his accountant know. Essentially, this cache makes it impossible to identify someone who just gave our president $20 million for an apartment!
"If what's going on is somebody is buying something from The Trump Organization to buy favor, there's no way you'd ever figure out who that person is or what favor they're trying to buy," said Jack Blum, a Washington attorney specializing in offshore tax evasion and financial crime and former staff lawyer for two U.S. Senate committees. USAToday article
In The Donald's defense, America was well aware of these conflicts of interest before he was elected. His campaign opponents were sure to broadcast such potential dangers to America. But his voters did not care. You can't blame The Donald. His voters knew of all of his flaws, yet they still voted him in. All of the fraud lawsuits and the sexual molestation lawsuits, didn't bother his supporters.
Unlike most of my Trump articles, this one will end on a good note. As a result of such a blatant violation of our constitution, as well as shit like this, PoliticalHaze article, almost 200 Democratic members of Congress have filed a lawsuit against our president. The lawsuit alleges that Trump has violated the constitution by taking gifts from foreign leaders. WashingtonPost article
Storm clouds and raging all around Trump's head.